COVID-19 Ventilation Guidance: Consideration for Fan applications to allow for safe building occupancy
Introduction
As businesses start to bring staff back into work, the issue of how to safely ventilate work & communal areas needs to be considered. The question of how building ventilation be managed to ensure occupants safety needs to be addressed. What will this mean HVAC and fan design criteria
CIBSE (The Chartered Institution of Building Services Engineers London - https://www.cibse.org/coronavirus) have issued guidance to implement higher rates of fresh air changes for occupied buildings, and the guidance is aimed to modify the use of systems to provide safe conditions for communal, working & public areas.
The CIBSE guidance outlines the reasoning & implementation for new safety measures to be employed to ensure the safe occupation of buildings going forward.
Covid risks: Evidence is beginning to emerge that SARS-CoV2, the virus which causes Covid-19, can spread by very small aerosols particles, which are released by an infected person when they cough, sneeze, talk and breathe, as well as the larger droplets that are released. Larger droplets will fall by gravity and influences the 2m social distancing measures to reduce spread. However, these fine aerosols can remain airborne for several hours. Although it can be difficult to definitively prove airborne transmission, knowledge of other similar viruses and the emerging evidence showing high rates of infection in poorly ventilated rooms suggests that we should consider this as a potential transmission route and undertake measures to reduce that risk.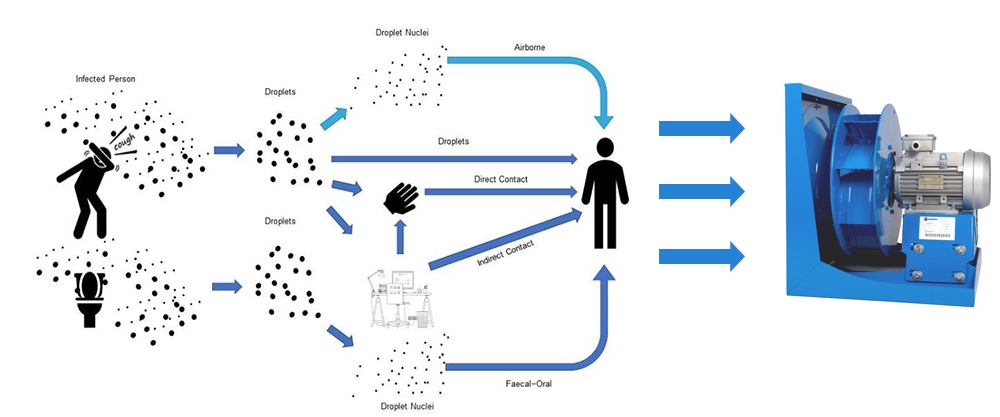 To minimise the risks of airborne transmission of SARS-CoV2 the general advice is to increase the air supply and exhaust ventilation, supplying as much outside air as is reasonably possible. The underlying principle is to dilute and remove airborne pathogens as much as possible, exhausting them to the outside air and reducing the chance that they can become deposited on surfaces or inhaled by room users.
Understanding your ventilation system to implement the correct action for the HVAC system.
Understanding your ventilation system to implement the correct action needed to ensure safe working environments will be key going forward.
The key actions now being recommended by CIBSE are:
Run your ventilation at higher volume flow rate; this may require changes to CO2 set points (for both mechanical ventilation and automated windows)
Avoid recirculation/transfer of air from one room to another unless this is the only way of providing adequately high ventilation to all occupied rooms
Recirculation of air within a single room where this is complemented by an outdoor air supply is acceptable - If applicable enthalpy (thermal) wheels should be switched off, but the pressure difference will need to be maintained between supply and extract to minimise any leakage flow from the extract to supply side
The general guidance from a fan operation is to turn up fans to offer as many fresh air changes as possible. With the REHVA (Federation of European Heating, Ventilation and Air Conditioning Associations - https://www.rehva.eu/activities/covid-19-guidance) FAQ offering some further guidance, as below, with recommendations for best practice requiring for increased air flows for safe / high occupancy at 2 – 2.5 times the normal flow per person.
REHVA FAQ – Recommended rate of air exchange for workplace
Existing standards in non-residential buildings lead to about 10 L/s per person which is equivalent to at least 2 ach (air changes per hour). On the other hand, we know that this ventilation rate could be too small, some papers about super-spreading events show that infections have been associated with very low ventilation rates of about 1 L/s per person. Researchers are speculating if 10 L/s per person is enough, or if this value should be increased to 20-25 L/s per person – with research ongoing this information is currently not available for Covid-19.
REHVA FAQ – Level of occupancy considerations?
The amount of litres per person of fresh air needed is directly related to occupancy. If in an open plan office one has ventilation of 2 L/s per m2 floor area, in the case of high occupancy (5 m2 per person) the ventilation is 2x5=10 L/s per person, and in the case of less occupants (10 m2 per person) the ventilation would be doubled 2x10=20 L/s per person. The fresh (outdoor air) ventilation rate per person matters, so this can be increased by lowering the occupant densities, ( or increasing air flow in high density occupant densities)
Outside of performing changes to existing buildings HVAC controls to implement safe working conditions. These considerations will also affect how buildings will need to design & operate new HVAC systems to keep fresh air in circulation and avoid any potential infections.
Filter upgrades
Further to the increased air flow requirements on site, additional filtration upgrades are now being reported in the field. With HEPA filter efficiency being the minimum requirement to filter out any viral laden air (*with ongoing studies reviewing the effectiveness of HEPA filters to remove Covid-19 from air). It will be highly likely that future & existing systems will be designed with increased filter efficiency to maximise the safety of any recirculated air.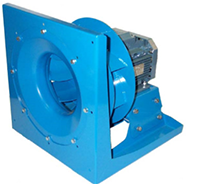 What does this guidance mean to fan selection?
Increased air flow within normal unit & duct sizes will mean higher velocity systems. This will have a knock on effect of increasing system pressures & power requirements for the fans to work against.
Introduction of HEPA / higher efficiency filters into systems will increase the unit pressures, further increasing the parameters the fans will need to work against.
The Best fan for the job?
With the potential for both increased air flows & increased pressures ensuring the correct fan is available in your system is more important than ever.
With the market place default set towards a more common EC plug fan offering, we need to ask can they reach the same system requirements as a high pressure AC plug fan with an increased system requirement?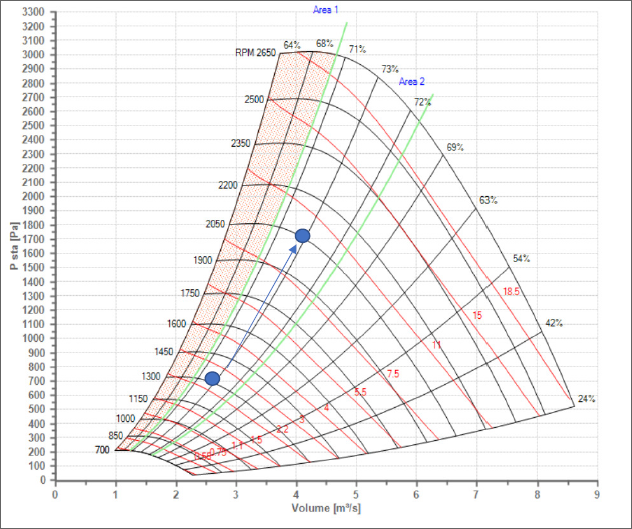 A matter of range
The chart below shows a sample of fan curves from our NPA plug fan range, to demonstrate the large performance envelope available on all fan sizes and the large scope of the pressures that can achieved by all fans in the range
The much larger volume & pressure envelope available on a high pressure AC plug fan range, allows for a larger scope of selection points. This in turn, ensures flow rates can be increased as much as possible to achieve the best possible amount of air changes to keep environments safe from air born infections.
COMEFRI NPA plug fan curve
When compared to an EC plug fan with larger limitations on the available motor size, maximum achievable volume & pressure we can see the potential for speed & duty increases is greatly reduced.
With COMEFRI plug fans offering a large scope of volume & pressures, we can offer the high fan efficiencies needed for the market place to ensure best energy usage coupled with a fan with the scope and range to achieve the increased requirements demanded of them to ensure safe, low risk environments.