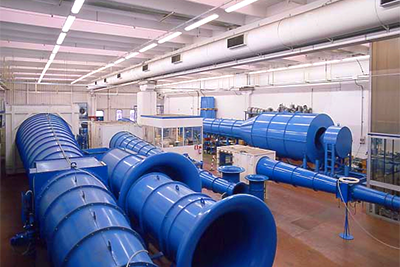 Comefri can provide accurate and repeatable airflow, pressure and power data for fans of all types by performing an airflow measurement test per ISO 5801 and AMCA 210 standards using one of three chambers located in our test lab.
When a fan exceeds the size limitations of the chambers, a large scale duct testing can be conducted at our manufacturing plant in Artegna, where we can provide accurate and repeatable results by performing airflow measurement testing as per EN ISO 5801 / AMCA 210 standard.
Comefri SpA has today two sound testing equipments in the Artegna building. An in-duct sound test rig, according to EN ISO 5136 / AMCA 330, and a reverberant sound room for conducting sound performance tests per AMCA 300 standard. The reverberant room is qualified for both broadband and pure tone sound measurement and used for developing fan sound level ratings and troubleshooting noise issues.