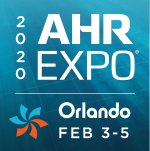 Comefri USA is participating to the 2020 International Air-Conditioning, Heating, Refrigeration Exposition in Orlando– February 3-5 2020.
Visit us at Booth #3781 – West Hall
AHR Expo 2020 takes place in
Orange County Convention Center
9800 International Drive
Orlando, Florida 32819
The AHR Expo is the world's largest HVACR event, attracting the most comprehensive gathering of industry professionals from around the globe each year. The Show provides a unique forum where manufacturers of all sizes and specialties, whether a major industry brand or innovative start-up, can come together to share ideas and showcase the future of HVACR technology under one roof. Since 1930, the AHR Expo has remained the industry's best place for OEMs, engineers, contractors, facility operators, architects, educators and other industry professionals to explore the latest trends and applications and to cultivate mutually beneficial business relationships.
Visit our on-site subsidiary: COMEFRI USA www.comefriusa.com for more info.