Plenum Fans With High Efficiency Steel Or Aluminium Wheels With Airfoil Blades
COMEFRI high performance centrifugal impellers NPA and NPA ALU have been designed for clean or slightly dusty air, to achieve the best possible aerodynamic performance when not fitted within a conventional fan housing.
The NPA impeller is manufactured in steel, with backward curved airfoil blades and painted finish.
The NPA ALU impellers are manufactured in aluminium.
The special aluminum alloy tested and used to realize this wheels, the development of the specific rotating-diffuser, similar to the one present on the NPL and NPA in steel, and the optimization of the welding process used, offers the possibility at Comefri S.p.A. to propose on the international market these new series of wheels that flank and extend the series of painted steel wheels.
The low total weight given by the aluminum alloy allows less load on the bearings (longer bearing-life), lower extra-load added on the structures concerned by installation, also contributing to a reduction on self-induced vibrations.
The aluminum alloy used, thanks to its excellent resistance to corrosion, ensure the maximum flexibility to use these wheels in any environment and industry; it also be nontoxic, non-magnetic and easy to clean.
It is ERP 2015 compliant.
CO.ME.FRI. S.p.A. certifies that the high efficiency free wheels NPA and NPA ALU for plenum fan are licensed to bear the AMCA Seal. The ratings shown are based on tests and procedures performed in accordance with AMCA Publication 211 and AMCA 311 Publication and comply with the requirements of the AMCA Certified Ratings Program.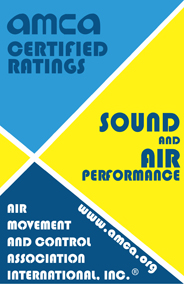 NPA PDF Catalogue
| | |
| --- | --- |
| Dimensions NPA ALU | 250 - 280 - 315 - 400 - 450 - 500 - 560 - 630 - 710 |
| Dimensions NPA steel | 315 - 400 - 450 - 500 - 560 - 630 - 710 - 800 - 900 -1000 - 1120 - 1250 - 1400 - 1600 |
| Volume | up to 220.000 m³/h |
| Δpt max | 3.100 Pa |
| Pwmax | 118 kW |